The operational life of active medical device would be the period of time during which the intended use of the product is maintained and the safety and effectiveness of the product can be guaranteed through risk management, the product operational life with related verification documents should be provided during the active medical devices registration in China.
Which product is required to provide operational life?
A safety-related feature or claimed performance of an active medical device may degrade over time, this product is required to provide the operational life.
The evaluation path for active medical device operational life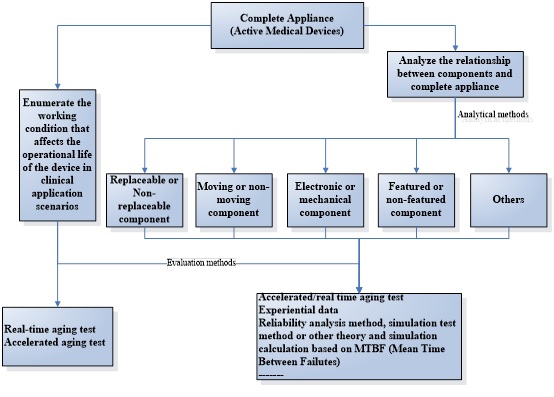 Operational life influence factors for active medical devices
The product operational life is not only relevant to the device itself, but also relevant to multiple factors such as the use environment, conditions of use, users and patients of the device, the most important factors may affect the product operational life as bellows:
- Critical component
- Frequency and intensity of use
- Transport, storage and use environment
- Cleaning and disinfection
- Packaging and sterilization method
- Empirical data
- Commercial aspects
How to indicate the product operational life during the registration
Active medical device manufacturer shall specify the operational life in the registration application files such as product R&D document, product risk assessment document, product instructions and label.
The product operational life can be expressed with time period, number of use or time period by clinical use, and the factors of use conditions and frequency need to be considered.
How to compile the Product Operational Life Evaluation Report
Active medical device manufacturer shall provide the product operational life evaluation report. The Active Medical Device Operational Life Evaluation Report should include the following contents:
- General information: product name, specification and model, drafted company and completion time.
- State the regulatory basis, the scope and the content of the validation
- Evaluation methods
- Evaluation path
- Influence factor analysis
- Overview of evaluation methods
- Conclusion
- Attachment: relevant verification documents such as accelerated aging test report, fatigue test report, simulation calculation report, MTBF calculation report and risk assessment report.
How to register active medical device in China

The registration process can be divided into 5 steps:
1. Appointing an China Legal Agent
2. Testing in a designated laboratory in China
3. Clinical evaluation via trial or exemption
4. Dossier preparation and submission
5. Technical evaluation and administrative approval