On November 6th, 2018, National Medical Products Administration (NMPA) issued 'Special Review Procedures of Innovative Medical Devices' implemented from December 1st, 2018. The aim is to encourage innovative medical device R&D and promote the application of new medical technology for the high-quality development of the medical device industry.
Innovative medical devices shall meet the following requirements:
-Applicant has domestic legal invention patent of product core technology or acquires legal right to use in China; or invention patent of core technology is disclosed by the competent authority and the report issued by National Intellectual Property Administration proves innovation and creativity of the core technology
-Applicant has completed basic approved product, R&D of which is real and traceable
-Main principle or mechanism is pioneering in China and performance or safety is improved to an advanced level in the world with significant clinical value
-Class I medical devices cannot be applied for the innovative medical devices
The priority and support for innovative medical devices:
-Special personnel provides particular support and solves problems about relevant technology and registration
-The products are labelled as 'innovative medical devices', documents of which transmit in priority
-Technical review, registration testing and administrative approval are a priority in registration
-Approval items alteration is also a priority
The flowchart of the special review procedures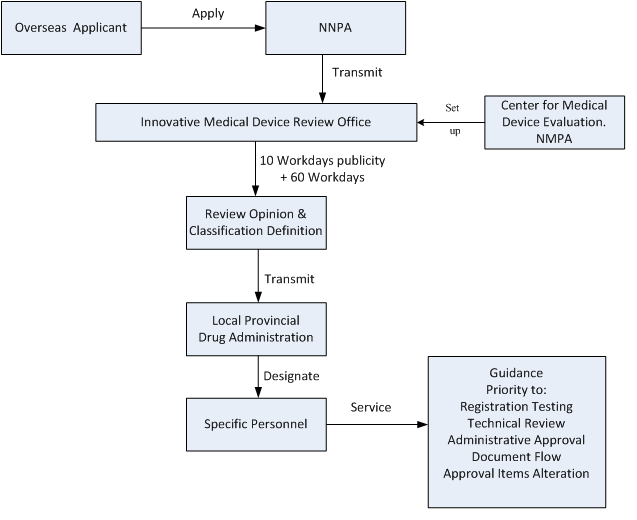 CIRS Comments
The trend of medical device registration in China is to encourage advanced medical devices and high-value medical devices to market in China. If an applicant owns an advanced core medical technology and a medical device with it, it is better to apply for the special review. If the review opinion shows it belongs to innovative medical devices, the applicant will save much time and cost in the registration procedure.
Generally speaking, overseas applicants are Marketing Authorization Holders (MAH). They have to authorize a China Authorized Representative (CAR) in China to apply for the special review and registration. Overseas MAH usually has the core technology that never appears in China but doesn't know relevant regulations and market in China. CAR needs to clearly know the requirements of innovative medical devices and estimate if the overseas medical device is innovative or not. It is considered that invention patent or the right to use needs to be in China. The CAR has to acquire the right to use or ask MAH to apply for the invention patent in China to meet the requirements before the special review procedures.
If you want to get the EN Version, please feel free to contact md@cirs-group.com