The UDI database is an important part of the UDI system. In accordance with the requirements of the "Medical Device Unique Identification System Rules" and the "Medical Device Unique Identification System Pilot Work Plan". The medical device UDI database was officially launched on December 10, 2019, and is open to the pilot enterprises to declare data related to the unique identification of pilot products.  
I. Build unique device identification main data
   The unique identification of the medical device is composed of the device identification and the production identification. The UDI database will gather product identification and related data of medical device unique identification. The medical device registrant / filer is responsible for data declaration, and the authenticity, accuracy, and uniqueness of the data. The UDI database will provide the main data of the medical device for each link of production, circulation and adoption, so as to achieve data homogeneity and standardization.
II. Promote the linkage of the whole chain
   In accordance with the requirements of "Exploring the cohesive application of normative coding in the registration, procurement, and use of high-value medical consumables" in the "Management of High-Value Medical Consumables Reform Plan", medical insurance codes and classification of consumables and equipment have been added to the UDI database. This promotes the full chain linkage of medical devices from production to clinical use, realizes multi-party data sharing, and promotes the linkage of three healthcare reforms.
III. Provide multiple service models
  The UDI database of medical device is based on the principles of standardization, ease of use, openness, and scalability. The design of the page is simple and friendly, and the operation is convenient. Based on full consideration of user needs, it provides data declaration methods such as webpage online declaration, template import, and interface docking, as well as data sharing methods such as webpage online query, data batch download, and interface docking, so that various users can choose their own declaration and sharing methods according to their actual needs. This provides users with a good experience.
IV. Open a column for UDI system
  In order to make it easier for the public to view the development of the UDI system for medical devices, the "Medical Devices" section of the website of the NMPA has opened a "Medical Devices UDI System" column (see Figure 1). After clicking into the column, you can query related policies and regulations, work trends, database operation guidelines, etc. (as shown in Figure 2), and you can also enter the UDI database declaration login page (see Figure 3) through the "Entrance of Declaration" on this page.
   In the next step, the NMPA will strengthen guidance and services for the declaration of unique identification data for medical devices, and open the inquiry and sharing services for the UDI database to the pilot units in March 2020 according to the pilot work schedule.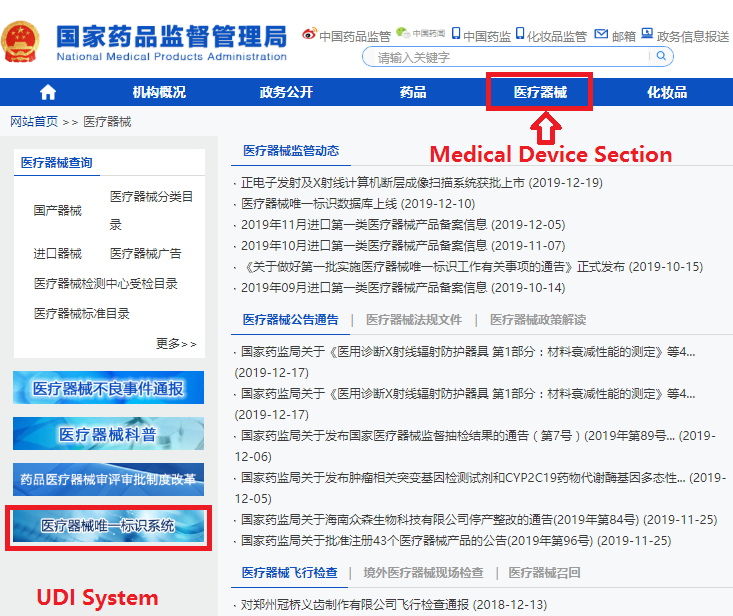 Figure 1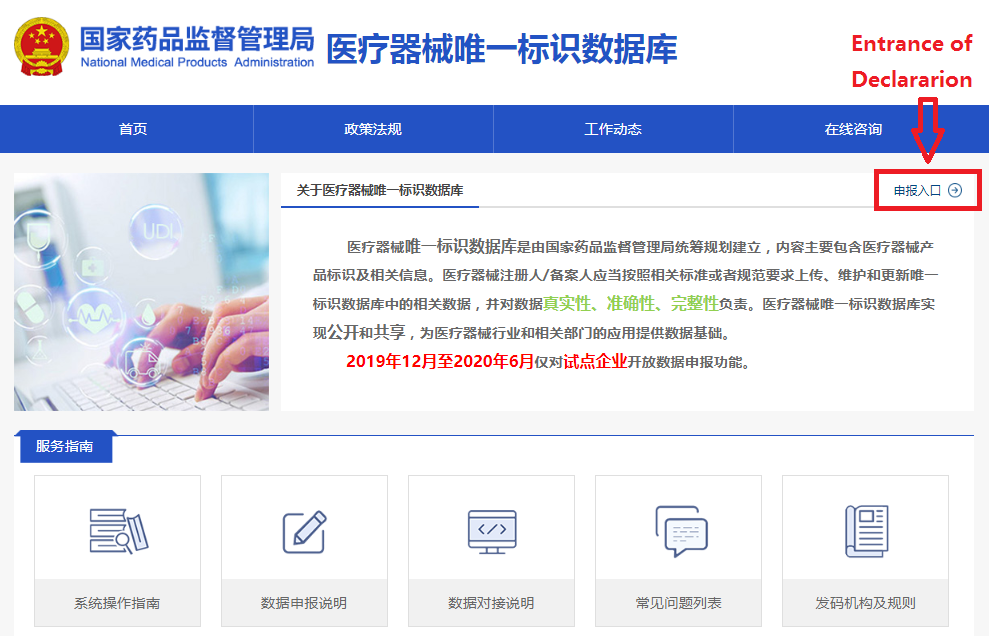 Figure 2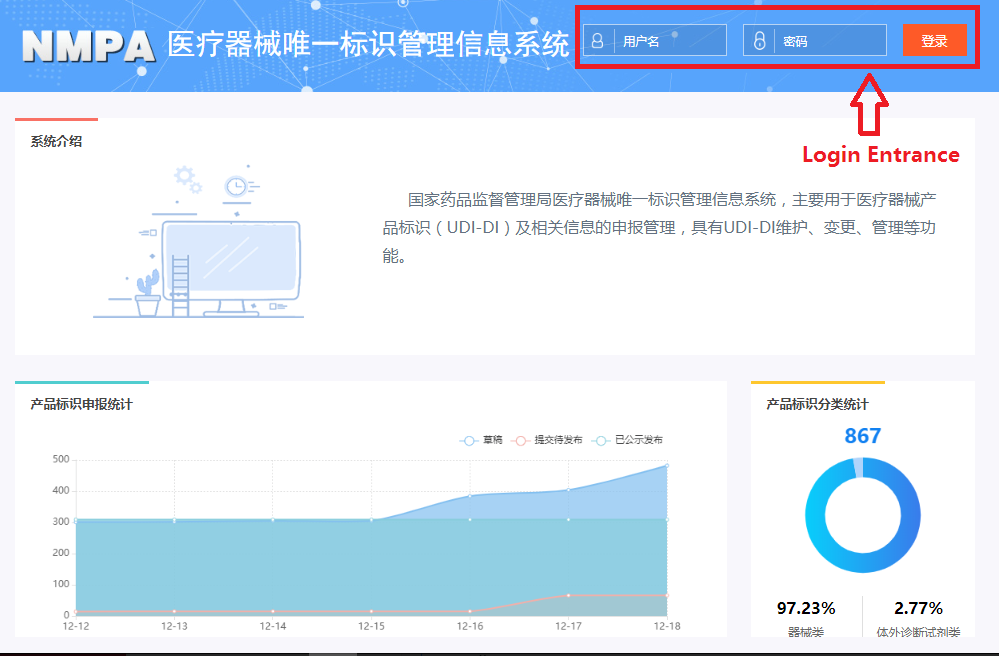 Figure 3